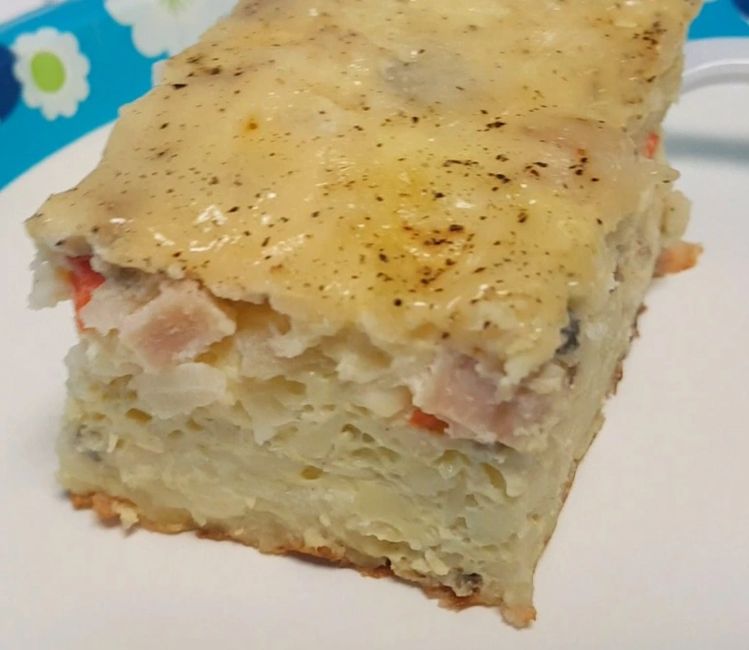 INGREDIENTS
18 eggs
1/2 cup fat-free half and half
20 oz Great Value (or Aldi) shredded hash browns
9 slices Canadian bacon, diced
8 oz Cabot 75 cheese, shredded
1/2 onion, diced
4 oz mushrooms, diced
INSTRUCTIONS
Preheat oven to 350 degrees.
Spray 13x9-inch casserole dish with cooking spray.
Whisk together eggs and half & half.
Add salt and pepper, if desired.
Spread hash browns into bottom of prepared baking dish.
Top with bacon, onion, mushrooms, and about half of the cheese.
Pour egg mixture over casserole.
Cover with foil and place in the refrigerator overnight.
In the morning, remove from refrigerator and place in 350-degree preheated oven and bake for approximately one hour, covered.
After one hour, remove foil from casserole, top with cheese, and bake an additional 20-30 minutes or until eggs are set and cheese is melted.
Remove from oven and let set for 10 minutes before serving.
Nutrition Facts
FOR 12 SERVINGS:
Amount Per Serving
Calories 187
Total Fat 9 g
Saturated Fat 4 g
Cholesterol 294 mg
Sodium 433 mg
Carbohydrate 6 g
Dietary Fiber 1 g
Sugars 1 g
Protein 19 g
myWW Blue: 2
myWW Purple: 1
myWW Green: 5
FOR 16 SERVINGS:
Amount Per Serving
Calories 140
Total Fat 7 g
Saturated Fat 3 g
Cholesterol 220 mg
Sodium 325 mg
Carbohydrate 4 g
Dietary Fiber 0 g
Sugars 1 g
Protein 14 g
myWW Blue: 2
myWW Purple: 1
myWW Green: 4