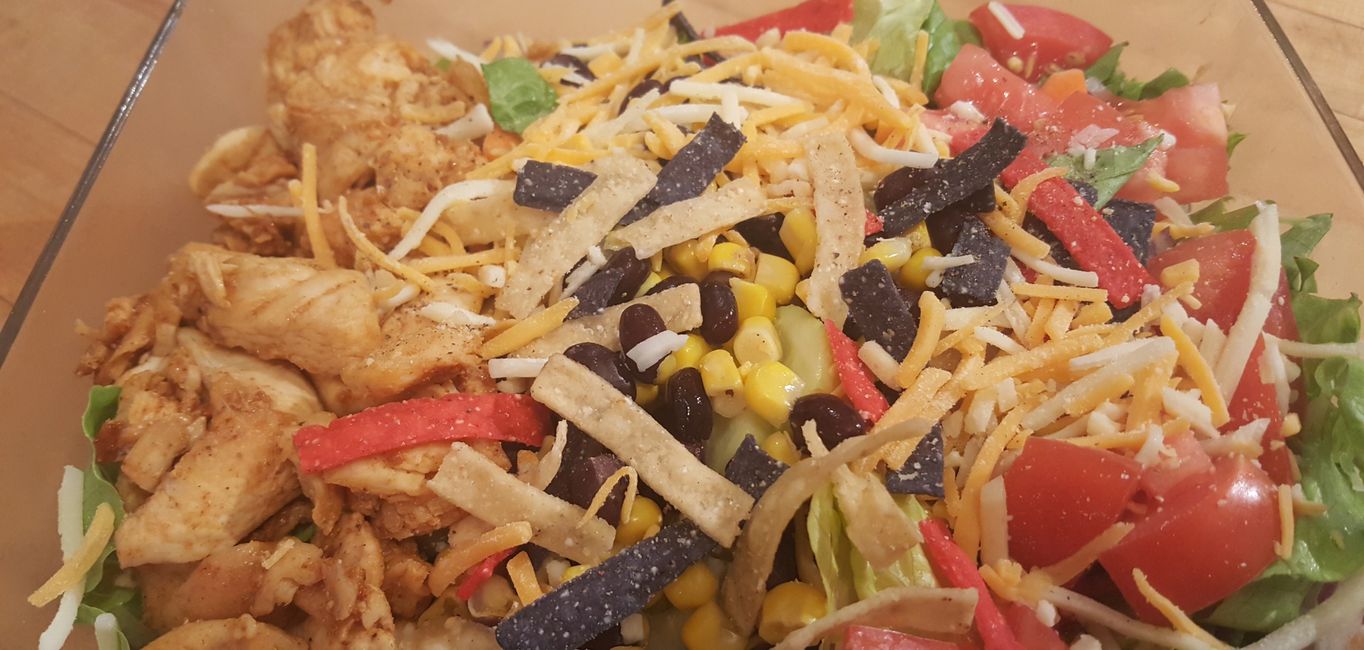 INGREDIENTS
1.5 lbs Boneless Skinless Chicken Breast, cubed
6 tsp Taco Seasoning Mix
1/8 cup water
3 mini cucumbers, chopped
6 cups shredded Lettuce, green leaf
1 cup chopped, Iceberg Lettuce
15 oz, Black beans, drained and rinsed
15 oz canned sweet corn, drained and rinsed
2 Beefsteak Tomatoes, chopped
1 Red onion, chopped
12 tablespoons (42 grams), Tri-color Tortilla Strips
3/4 cups Velveeta shreds
1 lime
INSTRUCTIONS
Spray saute pan with cooking spray.
Over medium-high heat, sear cubed chicken until cooked, approximately 6 to 10 minutes
Add taco seasoning mix and water to pan with chicken. Mix well and cook for 1 to 2 minutes. Remove from heat and let rest.
Combine all vegetables and black beans in individual bowls (this makes six servings)
Top with Chicken, tortilla strips, and cheese.
Top with juice of one lime.
When ready to eat, top with dressing of your choice (be sure to account for points for the salad dressing).
Nutrition Facts
SERVES: 6
Amount Per Serving:
Calories 315
Total Fat 6 g
Saturated Fat 2 g
Cholesterol 63 mg
Sodium 1326 mg
Carbohydrate 30 g
Dietary Fiber 7 g
Sugars 9 g
Protein 32 g
myWW Blue: 3
myWW Purple: 3
myWW Green: 7