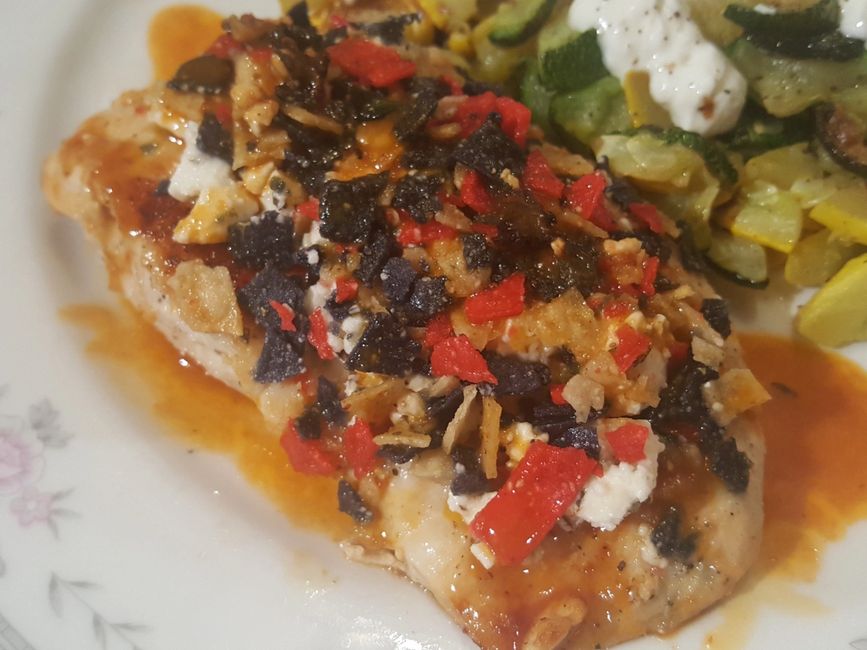 INGREDIENTS
(2) 5-oz boneless skinless chicken breasts
1/2 oz light butter
1 oz fat-free feta crumbles
3/4 oz tri-color tortilla strips, crushed
2 tsp Frank's RedHot Sauce
INSTRUCTIONS
Pat chicken breasts dry, and season both sides with a pinch of salt and pepper.
Spray a medium skillet with cooking spray and heat over medium heat.
Add chicken breasts to hot pan and sear until browned, 5-7 minutes. Flip chicken.
Top chicken with feta crumbles and tortilla strips.
Cook until 5-7 minutes or until done (depending on thickeness ).
Remove from burner. Transfer to a plate and tent with foil. Let rest 5 minutes.
While chicken is resting, make buffalo sauce.
Place butter in a microwave-safe bowl and microwave until melted, 30-60 seconds. Vigorously stir in hot sauce (to taste).
Drizzle sauce over chicken.
Enjoy!
Nutrition Facts
Serves: 2
Amount Per Serving
Calories 193
Total Fat 3 g
Saturated Fat 1 g
Cholesterol 102 mg
Sodium 389 mg
Carbohydrate 3 g
Dietary Fiber 0 g
Sugars 1 g
Protein 36 g
myWW Blue: 3
myWW Purple: 3
myWW Green: 6