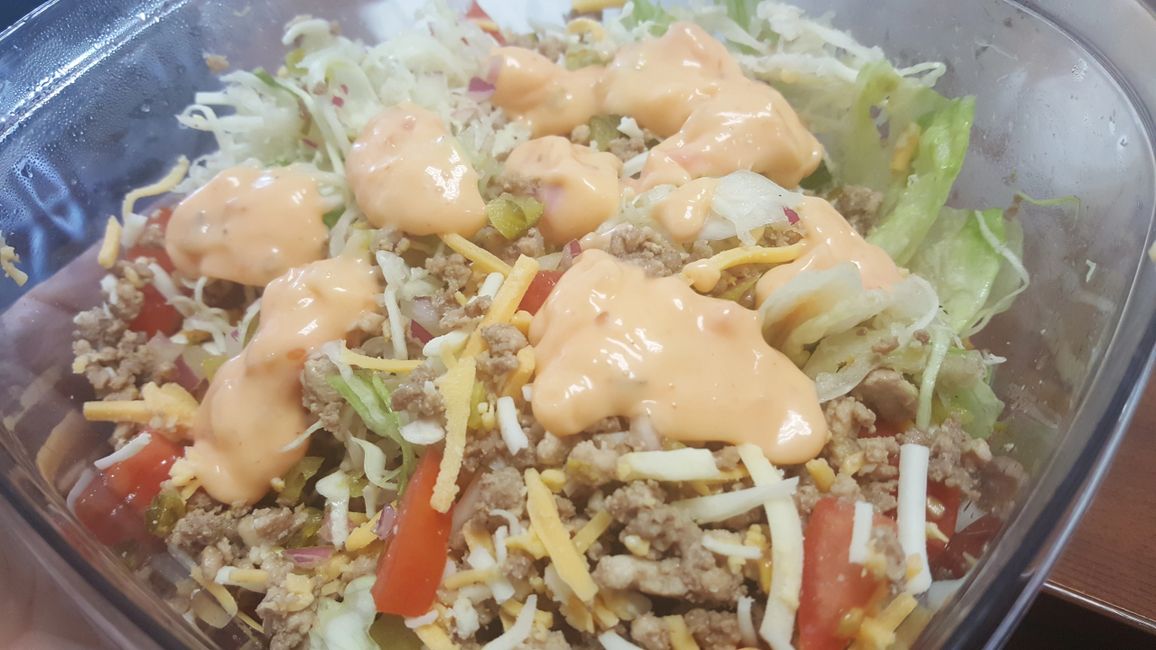 SALAD INGREDIENTS
1 lb ground turkey breast
1/2 lb 96% extra lean ground beef
1 Tbsp Worcestershire sauce
1 tsp Onion powder
1 Tbsp Minced garlic
Salt & pepper, to taste
1-1/2 heads of iceberg lettuce
Bag of angel hair coleslaw
1 Red onion, finely chopped
3 Roma tomatoes, chopped
5 baby dill pickles, diced
1-1/2 cups Velveeta shreds
SAUCE INGREDIENTS
1/2 cup light Miracle Whip
1/4 cup Hellman's light mayo
3 Tbsp fat-free French dressing
1 tsp sugar
1 tsp white vinegar
2 Tbsp minced onion
Salt and pepper to taste
INSTRUCTIONS
Spray skillet with Olive Oil spray.
Add turkey and beef to skillet, and season with onion powder, salt pepper, and Worcehstershire sauce.
Cook for about 5-7 minutes, stirring occasionally.
Add minced garlic during last minute or two.
Remove from heat and let cool.
Add lettuce and coleslaw to six prep bowls. Top with red onion and dill pickles. (Add tomato or put in separate containers to add the day you eat them).
Weigh all of meat and divide into sixths. Add 1/6 of meat into salad.
Top with 1/4 cup cheese.
Mix all sauce ingredients together and weigh. Divide into sixths. Pour into individual cups and add to salad the day you eat it.
Nutritional Facts
Serves: 6
Amount Per Serving
Calories 235
Total Fat 5 g
Saturated Fat 3 g
Cholesterol 82 mg
Sodium 848 mg
Carbohydrate 12 g
Dietary Fiber 3 g
Sugars 6 g
Protein 33 g
myWW Blue: 5
myWW Purple: 5
myWW Green: 7