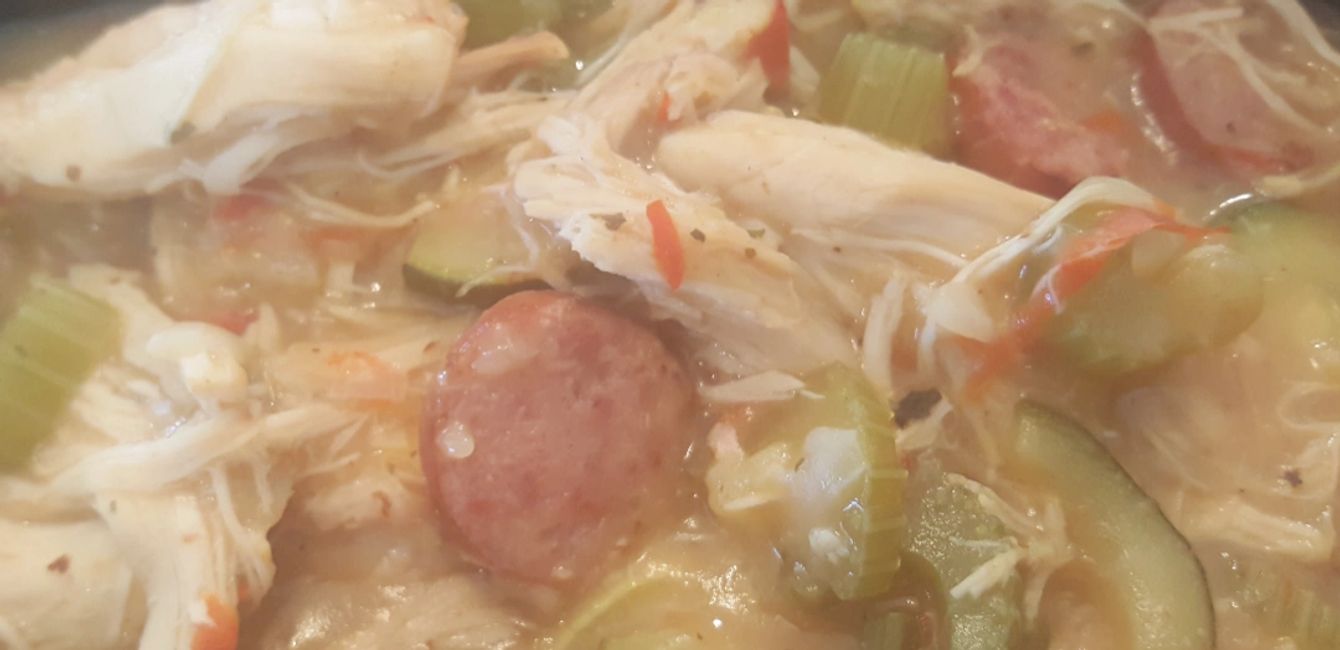 INGREDIENTS
13 oz. Hillshire Farms turkey kielbasa
1-1/2 lbs boneless skinless chicken breast
3/4 cup all-purpose flour
3/4 cup beef broth
1 red bell pepper
1 zucchini, diced
1 yellow squash, diced
1 large onion, chopped
4 stalks celery, thinly sliced
3 garlic cloves, minced
2 tsp Cajun seasoning
1/8 tsp cayenne pepper
32 oz chicken broth
INSTRUCTIONS
In a skillet, cook turkey kielbasa on stove over medium heat until browned
In a pot or Dutch oven, combine flour and beef broth and cook over medium-high heat, stirring constantly. When it almost reaches a boil, reduce heat to low, stirring occasionally, until it is thickened or creates a roux.
Add bell pepper, onion, celery, garlic, zucchini, squash, and spices to pot and mix well.
Slowly add in chicken broth.
Add chicken and turkey kielbasa and cook on medium-high heat until gumbo comes to a boil.
Reduce heat to low and simmer for about 1-1/2 hours or until chicken is cooked through. Shred chicken or cut into cubes.
Serve over roasted potatoes or rice (additional points).
Nutrition Facts
Serves: 6
Amount Per Serving
Calories 339
Total Fat 9 g
Saturated Fat 2
Cholesterol 110 mg
Sodium 948
Carbohydrate 22 g
Dietary Fiber 3 g
Sugars 5 g
Protein 38 g
myWW Blue: 4
myWW Purple: 4
myWW Green: 6