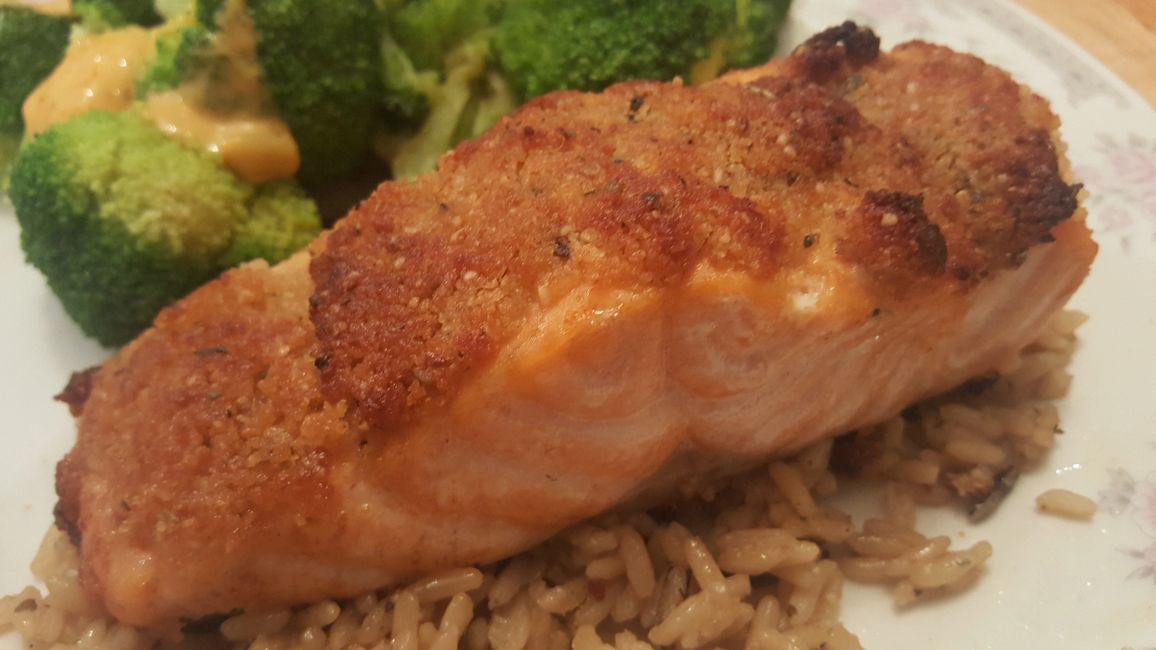 INGREDIENTS
1 lb salmon
1/8 cup grated parmesan
1/8 cup Panko breadcrumbs
1/8 cup seasoned breadcrumbs
1/2 tsp Italian seasoning
1 Tbsp light butter, melted
1 Tbsp minced garlic
AIR FRYER INSTRUCTIONS
Preheat air fryer for 3 minutes on 400 degrees.
Combine parmesan, both breadcrumbs, and Italian seasoning in bowl.
In another bowl, combine melted butter and garlic. Add to breadcrumb mixture and stir well.
Pat salmon dry with paper towel.
Top salmon evenly with topping, pressing gently onto salmon.
Spray air fryer basket with olive oil spray.
Place salmon, skin side down, in basket, and spray tops with olive oil spray.
Air fry for 10 to 12 minutes, depending on thickness of fish.
OVEN INSTRUCTIONS
Preheat oven to 400 degrees.
Line baking sheet with parchment paper or aluminum foil sprayed with olive oil spray.
Follow steps #2 through #5 above.
Place salmon on prepared tray.
Bake in 400-degree oven for 12 to 15 minutes.
Nutrition Facts
Serves: 3
Amount Per Serving
Calories 240
Total Fat 8 g
Saturated Fat 4 g
Cholesterol 72 mg
Sodium 714 mg
Carbohydrate 5 g
Dietary Fiber 0 g
Sugars 0 g
Protein 35 g
myWW Blue: 2
myWW Purple: 2
myWW Green: 10