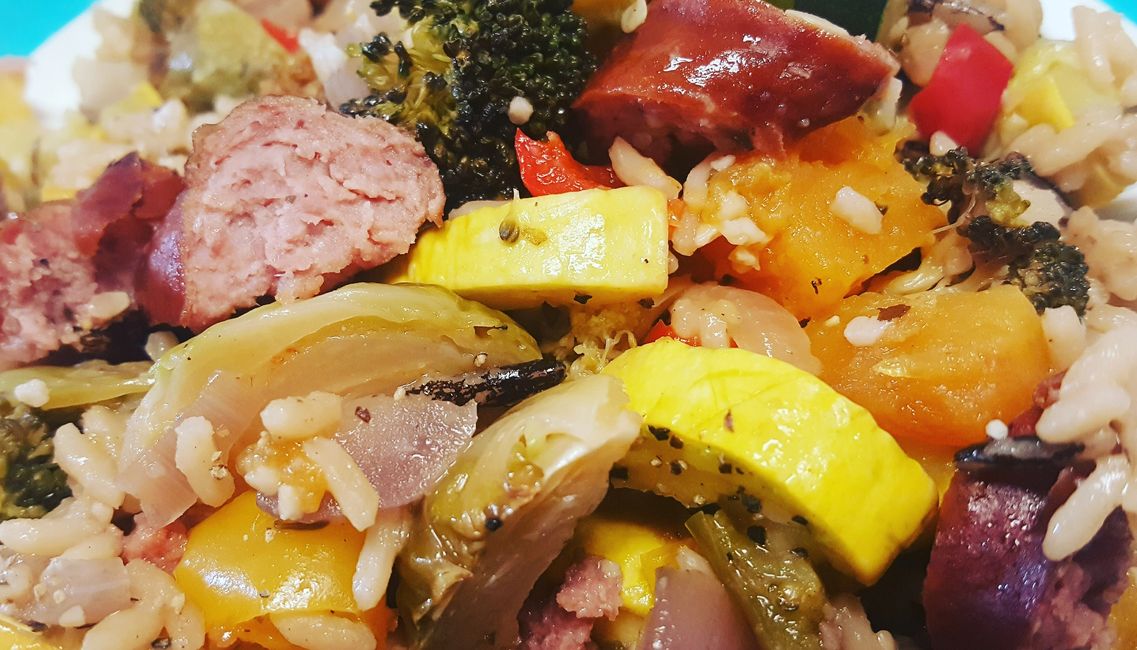 INGREDIENTS
18 oz Hillshire Farm Turkey Polska Kielbasa
1 zucchini
1 yellow squash
1 Red Bell Pepper
1 Yellow Bell Pepper
1 Red Onion
4 oz broccoli
4 oz carrots
6 brussel sprouts, halved
3 garlic cloves
8 oz butternut squash
2 tsp italian seasoning
2 tsp Hidden Valley Ranch seasoning
1 tsp olive oil
2 cups Uncle Bens Ready Rice Long Grain and Wild
INSTRUCTIONS
Preheat oven to 400 degrees.
Line sheet pan with aluminum foil and spray with olive oil spray.
Cut kielbasa into 1-inch pieces.
Cut vegetables into like-size pieces.
Cut garlic cloves
Mix all vegetables (except garlic) together on prepared sheet pan.
Sprinkle with Italian seasoning and Ranch seasoning.
Drizzle olive oil over vegetables and mix together.
Add turkey kielbasa on top of vegetables.
Bake for approximately 30 minutes, adding garlic during last 2 minutes.
Place 1/3 cup rice in each meal prep container (no need to cook if meal prepping).
Top each container with 1/6 of the kielbasa/vegetable mixture.
Store in fridge for up to 4 days.
To heat: Heat in microwave until heated through.
Nutrition Facts
Servings: 6
Amount Per Serving
Calories 298
Total Fat 9 g
Saturated Fat 2 g
Cholesterol 53 mg
Sodium 1071 mg
Carbohydrate 38 g
Dietary Fiber 6 g
Sugars 7 g
Protein 18 g
myWW Blue: 6
myWW Purple: 6
myWW Green: 6